Nagase Kenko Launches "Soft Tennis" at Kids Fitness Festival of the Palm Beaches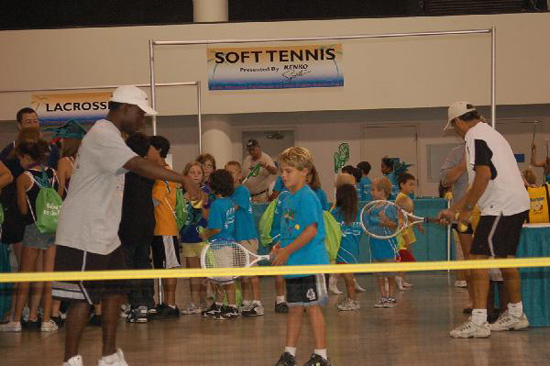 New York, New York - August 9, 2007 - Nagase Kenko Corporation (NKC) commenced its international launch of the Japanese sport of Soft Tennis at the annual Kids Fitness Festival of the Palm Beaches last month. This event brought together 4,500+ local elementary and middle school children to learn the basics of Soft Tennis and 46 other sports. NKC's participation was supported by the United States Tennis Association's Florida Section, and Region 6 serving Palm Beach County, which helped to recruit coaches and to provide instructional training.
To learn how you might incorporate Soft Tennis into your own local tournament, promotion, athletic or sporting goods sales programs, please click HERE or contact the representative indicated below.
"The Kids Fitness Festival is organized to provide kids with an opportunity to learn new sports that they don't get exposed to through the traditional sports curriculum. Soft Tennis proved one of this year's most popular attractions -- even though most were playing this sport for the first time," noted Graham Morris, Director of Operations, Palm Beach County Sports Commission. "The feedback by children, coaches, parents and others was quite positive, and there is every reason to believe Soft Tennis will attract a wide following -- among players of all levels and ages -- in coming years."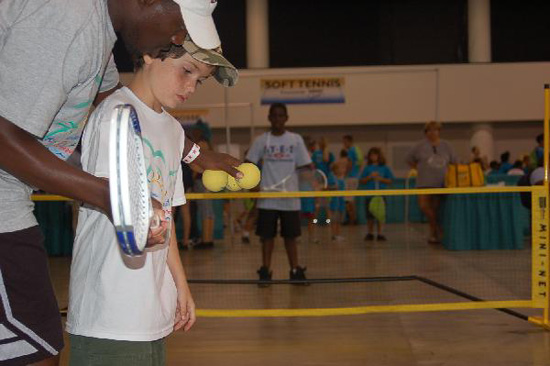 "The United States Tennis Association is always seeking ways to make tennis more accessible and to provide training tools that encourage greater skills and participation in the game," commented Susan Allshouse, President, Palm Beach Tennis Associates Inc., and USTA Recreational Coach Workshop & Welcome Back to Tennis National Trainer. "Soft Tennis satisfies both of these goals - while serving as an enjoyable game in and of itself. We were pleased to work with NKC at this event and are now working on several programs to introduce Soft Tennis to players across the U.S."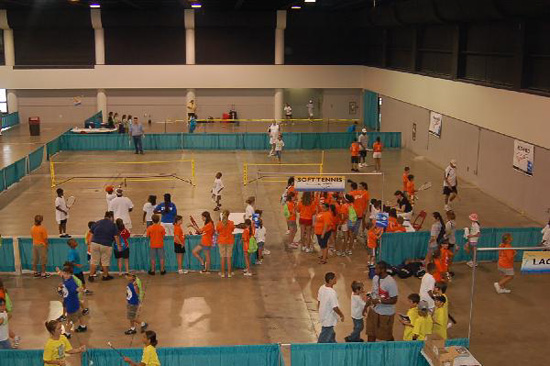 "This was our first exposure to Soft Tennis and we were very impressed by its clear potential as a new sporting goods product," stated Alex Keller of Mundi Sports, a distributor of NKC products in Florida and Latin America. "This event has already translated into numerous sales opportunities with dealers, parks and recreation departments, schools, summer camps and local retailers.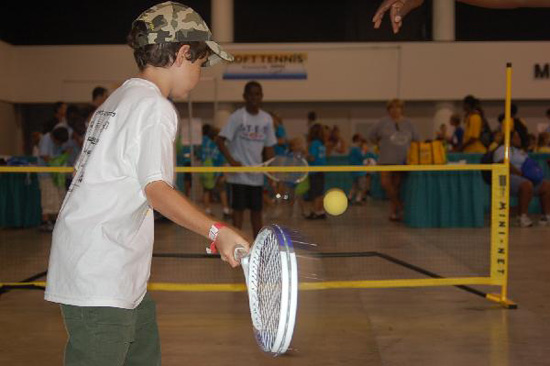 For more information on Soft Tennis, NKC, products, services and sports marketing programs, please visit http://www.kenkosofttennis.com. You can also view an introductory video at Soft Tennis Video, place orders online or contact the representative indicated below.
About Soft Tennis
Whether you are a beginner, highly skilled, or somewhere in between. man or women, adult or child, senior or junior, fast or slow, tall or short, green-eyed or blue eyed, tennis player or not, Soft Tennis is for YOU.
Originating in Asia in the 1870's, Soft Tennis has become the choice version of tennis for about 40% of players in Japan. It is also becoming increasingly popular in other areas of the world. A slowed down and more strategic version of the game, Soft Tennis emphasizes longer rallies and a more exciting performance that is accessible to every age and ability level right from the very first serve.
The key to Soft Tennis is the use of an inflatable soft, rubber ball. Unlike the standard felt-covered version, the pressure can be adjusted. Players can speed up or slow down the game to suit their ability and training objectives. Its composition also makes it more difficult to generate as much force when hitting the ball. This keeps the ball on the court. The result is longer rallies and a focus on cardiovascular fitness, hand-eye coordination, ball placement and footwork. Soft Tennis offers a game and learning tool that can be rapidly mastered by beginners, but which challenges even the most accomplished player. That is why Soft Tennis is gaining a following both by experienced players and teachers who view it as a training aid, as well as players who enjoy the sport on its own.
Nagase-Kenko Corporation, a prominent Japanese sporting goods manufacturer, has been a leading supplier of Soft Tennis products for decades. After receiving many inquiries from potential customers and distributors in recent years -- most of whom had become familiar with the game through visits to Japan and Hawaii -- it is now taking steps to introduce this product within the U.S. and other foreign markets.
If you're interested in learning more about this enjoyable game, or would be interested in information about Soft Tennis products, please inquire at your local sporting goods dealer or visit http://www.kenkosofttennis.com.
About Nagase Kenko Corporation
Headquartered in Tokyo, Japan, Nagase Kenko Corporation is a global, multi-line sporting goods company. In addition to its complete line of Soft Tennis product, NKC markets AirSafety and Universal Regulation baseballs as well as a wide range of additional sporting good products and services through its Team Sports and Tennis, Sports Flooring and Gymnastics Equipment and International Sales and Marketing divisions.
Presently employing a staff of over 250 individuals, NKC maintains four Japanese manufacturing facilities and three regional sales offices in Osaka, Fukuoka and Hokkaido. It also maintains a growing network of agents, distributors and representatives who help to manage its international sales and marketing and promotional activities.
Contact:
Alex Rabin
KWR International, Inc.
Tel. +1-212-532-3005
Fax. +1-212-685-2413
E-mail: kenko@kwrintl.com