US-Japan Investment Initiative Annual Symposium to Focus on Business Alliances/FDI in Japan - Washington, D.C. - October 24, 2007
New York, New York - October 5, 2007 -The Japanese Ministry of Economy, Trade and Industry (METI), U.S. Department of State and the Japan External Trade Organization (JETRO) invite internationally-focused journalists and other interested individuals to hear from leading experts concerning current economic trends and the potential for business alliances / direct investment in Japan. In addition to the information posted below, a more detailed agenda can be obtained at the symposium web site, which can be located at:

http://www.jetro.org/symp2007
This event will focus on "Creating Value Through Innovation" and showcase case studies detailing the strategies employed by global shipping and logistics giant FedEx and leading retail property developer Chelsea Property Group and the growth of their Japanese investments and operations. To further emphasize emerging opportunities within Japan's increasingly-dynamic service sector using American innovations, a panel discussion will also feature three innovative information- and technology-oriented firms explaining why they have chosen Japan as a site for their future international expansion efforts.
In addition, the proceedings will provide background on recent changes in Japan's investment environment. This includes passage last May of new laws that facilitate M&A activity by allowing foreign companies to buy Japanese businesses by merging them into Japan-based subsidiaries, using parent company stock to pay for the transaction.
This event will be co-organized by the U.S. Chamber of Commerce and held within its Washington D.C. offices on October 24, 2007 in the Herman Ray Room, located 1615 H Street, NW. Registration will begin at 9:00 AM and the event will conclude at 12:10 PM. Time will be allocated to accredited journalists who have an interest in interviewing speakers and other officials in attendance.? Appointments can be made by contacting the representative indicated below. The agenda will include:
Invest Japan Symposium 2007: Creating Value Through Innovation
Washington, DC - Wednesday, October 24, 2007
U.S. Chamber of Commerce - 1615 H Street, NW - Wash., DC 20062
Presider: Kazuo Okumura, President, JETRO New York
9:00am
Registration
9:30am
Opening Remarks
U.S. Department of State
Reuben Jeffery III, Under Secretary of State (Tentative)
9:35am
Presentation by the Organizer
Tadashi Izawa, President, JETRO
9:50am
Keynote Lecture
Leslie T. Chao, CEO, Chelsea Property Group, Inc.
Ken Hisamoto, VP U.S. Intl. Sales, FedEx Services
10:30am
Coffee Break
10:45am
Panel Discussion
(Moderator)
James Frierson, Former Chief of Staff, Office of the U.S. Trade Representative; Founding Director, Kruesi Center for Innovation
(Panelists)
Vinh Nguyen, CEO, Macronetics
Joshua Ziff, CEO, Bridge Semiconductor
Naoshi Yamauchi, Director, Business Dept for Asia, Lulu Enterprises
12:00pm
Closing Remarks
Nobuhiko Sasaki, Dep. Director-General, Trade Policy, Japanese Ministry of Economy, Trade and Industry Robert Reis, Senior Director, U.S. Chamber of Commerce
This event is being presented as part of the U.S.- Japan Investment Initiative (USJII), a bilateral effort established in 2001 by the U.S. and Japanese governments as an annual forum to exchange views on ways to improve the climate for foreign direct investment in both countries. This Initiative is chaired jointly by Japan's METI and the U.S. Department of State. Annual working group meetings are held to discuss current trends and possible measures for improvement.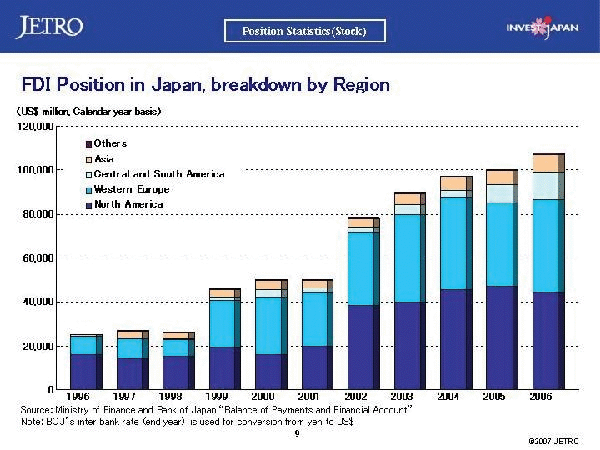 Supporting organizations include the Asia Society, Japan-America Society, Northern Virginia Technology Council and US PACC (Pan-Asian Chamber of Commerce).
"U.S. Department of Commerce data reveals Japan offers US companies the highest direct investment yields of all major industrialized nations -- at rates approaching 15-20%", states Mr. Tadashi Izawa, President of JETRO and, former Economic Minister of the Japanese Embassy in DC. "This symposium will familiarize U.S. executives and journalists with recent economic and commercial trends and the means by which they might establish business alliances with Japanese firms. This includes the presentation of case studies which detail how U.S. companies have successfully established themselves in Japan, with an emphasis on the service sector."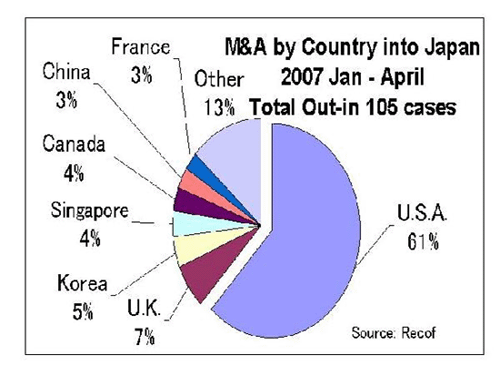 "In the excitement over China, India and other emerging markets, it is easy to overlook the potential for investment in Japan, the world's second largest economy", notes Mr. Robert Reis of US Chamber. "For this reason, we are pleased to co-host this year's USJII symposium in Washington, where both government and private sector entities can learn about the wide range of opportunities now emerging in Japan and the fundamentals that underlie these developments."
"As the world's largest owner and operator of retail outlet centers, we selected Japan as the site of our first international joint venture in 1999. Chelsea Japan is now the nation's leading developer and owner of upscale outlet centers, with six dominant properties in the Tokyo, Osaka, Nagoya, Kobe, Fukuoka and Tochigi markets," comments Leslie T. Chao, CEO, Chelsea Property Group. "We attribute this success to changing spending habits and behavior - particularly among baby boomers and older Japanese -- whose annual consumption now exceeds $500 billion - and who are increasingly value-conscious and open to purchasing a greater range of products and services."
For media inquiries:
Keith W. Rabin
KWR International, Inc.
email: jetro@kwrintl.com
tel./fax +1-212-532-3005 / 212-685-2413
For other inquiries:
JETRO New York
email prpt@jetro.go.jp
tel./fax +1 212-819-7746 / 212-944-8808
This material is published and disseminated by JETRO New York, in coordination with KWR International, Inc., New York, NY 10016, Tel: 212-532-3005, Fax: 212-685-2413, E-mail: kwrintl@kwrintl.com. JETRO New York is registered as an agent of the Japan External Trade Organization, Tokyo, Japan and KWR International, Inc. is registered on behalf of JETRO New York. This material is filed with the Department of Justice where the required registration statement is available for public viewing.